Live Independently in Your Home Without the Extra Worries
A Monadnock at Home membership means that you can still live independently without worrying about the frequent challenges that come with being a homeowner or living alone. We provide a wide range of services for seniors across the Monadnock Region who wish to remain in their homes but may struggle with everyday needs such as home maintenance, access to transportation, groceries, social connections and so much more.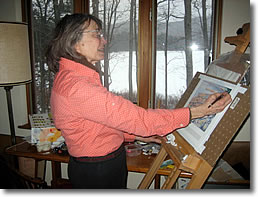 Services & Benefits Include
Help with simple maintenance or basic technical problems
Grocery and medication delivery
Transportation to appointments and once-a-week grocery trips
Telephone check-ins and emotional support calls
Unique social, educational and volunteer opportunities
Access to a vetted list of 150+ local independent service providers, including home maintenance resources, home health aides, auto repair shops, cleaning services, yard work, pet care and more.
Services are available at a nominal membership fee for individuals residing in Dublin, Fitzwilliam, Greenfield, Hancock, Harrisville, Jaffrey, Marlborough, New Ipswich, Peterborough, Rindge, Sharon and Temple.
Why become a MaH member?
You gain peace of mind,

with a caring staff providing you with the support needed to remain living in your own home and help you with any challenges that arise. When family is far away, knowing that MaH is just a phone call away gives you the confidence needed to live in your own home.

Your worries of living alone are eased.

Our dedicated volunteers are always willing to lend a hand with home maintenance, check-in calls, companion visits, grocery delivery, rides to appointments and more.

You become an active part of a bigger community:

You gain access to regular social, wellness and educational opportunities that foster community, create new friendships, prevent isolation and provide learning for shared concerns that are common to this stage of life.

You gain the security to know you can get help on issues that may arise around the house (big or small):

Our 150+ pre-screened service providers help with home maintenance, auto repair, personal shopping, computer assistance, financial and legal services, heating services, housekeeping, personal care and other everyday needs. Knowing that the person coming into your home can be trusted and will do good work is essential, especially when living alone.

Your future becomes our priority.

Caring staff who are here to assist you when your needs change as you grow older. Whether it's needing care at home or deciding if it may be time to consider changing your living situation, MaH staff is there to guide you.
Annual Fees:
Household - $495
Individual - $395
Reduced membership rates are available to those who qualify.
For more information, call 603-371-0809 or email You may also contact us here.